LEED Gold tower makes rigorous commitment to detail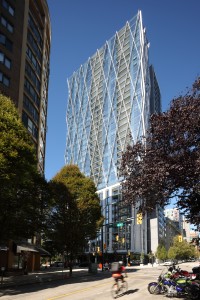 By GBL Architects
Amid the many ubiquitous residential towers of downtown Vancouver, 8X On The Park stands out for its nuanced, contextual response to the varied urban context and its attention to detail.  GBL Architects guided the project through a complex, decade-long planning and design process that culminated in a 35-storey mixed-use tower of striking presence on the Vancouver skyline.
8X On The Park sits at the corner of Richards and Helmcken Street in Vancouver's upscale Yaletown district, along the northern edge of Emery Barnes Park. Transformation of this intersection began on the northwest corner 10 years ago, with Jubilee House, an affordable housing project, also involving a collaboration between GBL and Brenhill.
Together, the two projects represent a substantial contribution to the neighbourhood of market, rental, and affordable housing units.