GBL Architects and Brenhill Developments have recently opened the doors on a new high-rise development —8X On The Park — in Vancouver's upscale Yaletown neighbourhood. The firm guided the project through a decade-long planning and design process culminating in a 35-storey mixed-use tower that sits at the corner of Richards and Helmcken Street.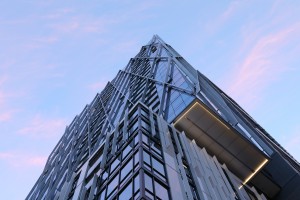 GBL and Brenhill approached the design with a holistic urban and architectural vision that incorporates key design considerations for height, form, articulation, and tower programming that are informed by a network of visible and invisible contextual variables.
The LEED-gold tower is also shaped by other intangible planning factors. A compact site and two protected view corridors presented physical constraints and funding the non-market Jubilee House, as part of the project's Community Amenity Contribution, created economic considerations.